Awards
Mustang band members named to 2016 honor band
THE RECORDER This email address is being protected from spambots. You need JavaScript enabled to view it. | Posted: Tuesday, December 15, 2015 6:00 am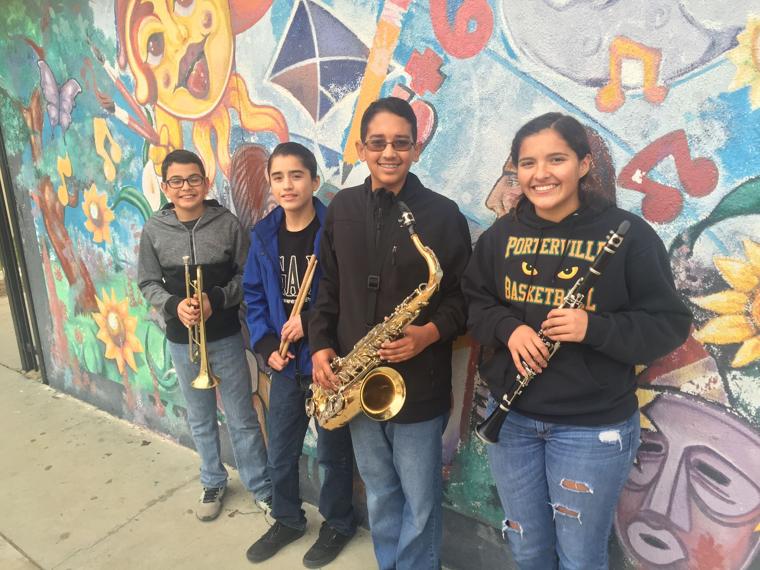 2016 honor band
CONTRIBUTED PHOTOPioneer band members Manuel Ramos, left, Carlos Rojas, Ethan Stanridge, Cienna Enriquez, pose for a photo after being selected by the Tulare Kings County Music Educators Association for the 2016 Honor Band.
Members of Pioneer Middle School's Mustang band have a little extra incentive to celebrate over the holidays. 
A quartet of Mustang band members were selected by the Tulare Kings County Music Educators Association for the 2016 Honor Band. The students underwent an intense audition Saturday at Alpine Vista Middle School. 
The first student to be awarded was seventh-grader Cienna Enriquez, who received seventh chair clarinet. 
Manuel Ramos was named 11th chair trumpet. Ethan Standridge was selected for tenor saxophone and Carlos Rojas — another seventh grader —  was selected for percussion. 
The students will host their Honor Band Concert on Jan. 16 at 4 p.m. at Frank "Buck" Shaffer Theater in the Porterville Memorial Auditorium.
By: Jaden
Did you attend the fall renaissance dance? If you would like to know about the fall renaissance it was a dance for people who met there A.R goal, had 3.0-4.0 grade point average, or were students of the month. After showing each student everyone went back to class in the 5th period. After lunch the kids who achieved their goals left in the beginning of 6th period right after attendance. The other kids spent all the time in their class while everyone else was dancing and having fun in the Fall Renaissance dance. Hopefully next time you can attend the fall renaissance dance and won't be left out. 
By Araceli
Have you ever heard about a party to celebrate the ones who worked hard at school, then yes it's called the Renaissance. Did you know that Pioneer Middle School is the only school that has Renaissance! Renaissances is for the students who studied really hard and have good grades. Many students got recognized for their outstanding work they got something really special. Last Renaissance was a succeed, many students attended and everyone had a great time. There is even a talent show where you can sign up and be in the Renaissance! A lot of students showed their talents by singing, playing a instrument, dancing and more. Plus you get a t-shirt to wear at the Renaissance, so people know that you went isn't that great. Also another Renaissance is coming up! To get in the Renaissance is from IXL, A.R, Student of the Month, G.P.A, Grades and Attitude, so if you meet one of those goals than you are definitely in. We hope to see you there.
by Cristina
At our recent first semester renaissance, Grades by Pioneer, some of the students had the opportunity to come up with a talent and perform it in front of the students. There was dance teams, cadets, singers, the drum line, and the teacher's dance performance. As part of the performances we had to practice in between the whole time until renaissances, specific days if you were on a team. When the date was getting closer Mr. Ortega would check up on how we were doing. The day of, we get called up to the multi-purpose room a little earlier so we can practice. We get an opportunity and then renaissance's people start coming in as well as every one else. Mr. Ortega would call us up to perform in an order as he would like. Mariachi also performed at renaissance.  They sang "Las Mananitas" for our principal, Mr. Valdez. As the students would line up according to there GPA, they would call up a performance and take them back stage to get ready as soon as the curtains opened up. That's how renaissance worked for the talent show part, then after that they had a dance.
A.R. Party!!!!! 
By: Annete
The very first time we had came here we had an Awesome A.R party. It had 2 Wii's to play with. With the Wii we were playing a game called  super Mario Kart Race. It was a blast because me and my friend were playing around with these sticker mustache that Ms. Vasquez had gave us  and it was a very fun time. Then they had announced who had won some presents for their A.R goal that they had reached.  Their were all kinds of gifts some were candy's bags, books, and much more. I almost forgot that they had gave us some delicious mouth watering food. one more thing is there a photo booth that Ms. Vasquez had arranged and everybody had been joining and making funny faces with with mustache and laughing all the time. The photo's that we had taken are going to be placed on the yearbooks so all the people that had not made their A.R. goal had missed out on all the fun that we had.